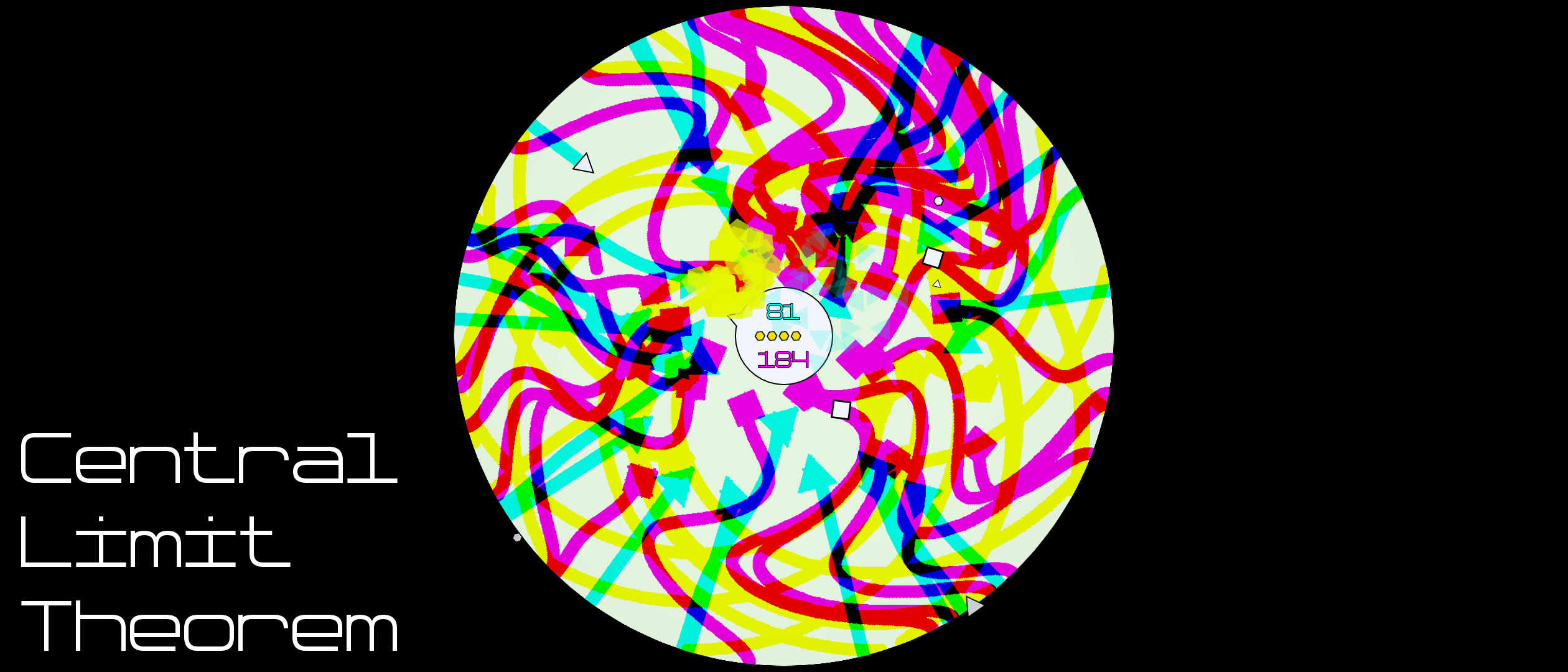 Central Limit Theorem
CLT is an arcade shooter where enemies learn behaviours from those that went before • WebGL Demo • Win/Mac/Linux Versions

Wait, What Is It?
Central Limit Theorem is a survival shooter where you have to protect your core for as long as you can from the shapes attacking it. It's a quick, simple, stressful, high-score shooter designed to be played between other, more substantial games.

Each enemy starts with a unique behaviour (they can shoot, weave, or orbit) and they each leave a different coloured ink on the playfield. When another enemy crosses this ink later it will learn the behaviours of those that went before!
The more ink, the more difficult the game becomes!
* IDGA Scotland Community Choice Award (Edinburgh Winner 2018) *

How Do I Play It?
[Fire] - Ctrl/Space
[Pause] - ESC/P (Use 'P' above as ESC does some odd things with the web player!)
[Rotate] - Arrow Keys/WASD

A tutorial will play the first time you run the game. It can be played again by shooting the 'Help' button. Shoot the 'Play' button to start a game!
Protect your core for as long as you can, and aim for a high score!


Why Should I Buy It?
Beyond supporting me and encouraging me to make more games, if you buy the game, you'll get a proper, customisable Unity-style executable for Windows, Mac, and Linux. This will allow you to have:

• Higher resolution and different aspect ratios!
• Better anti-aliasing for smoother graphics!
• The ability to easily save a picture of any run by shooting the 'Photo' button
• A 'secret' bonus alternative game mode! (Try shooting things in the main menu)
• Probably much better performance!
ATTENTION: The design might cause some difficulties for any of you lovely people with colour perception issues. Please try the demo and check out the screenshots before buying to make sure you won't be disappointed! I believe the game is still playable, but it might be more difficult!
LINUX USERS: Linux graphics drivers and Unity don't seem to play 100% nicely together, even when using 64-bit Ubuntu 12.04 or newer (the supported Linux OS from Unity). Testers reported running in fullscreen causes occasional problems, but that windowed mode runs fine. Your mileage may vary!


When Was It Made?
I couldn't get along to the Global Game Jam 2018 (#GGJ18), but I decided to create something within the same time frame. The theme was 'transmission', so I allowed enemies to transmit their behaviours to each other via ink! Since then loads of new features and polish have been added to Cental Limit Theorem!
Twitter: https://twitter.com/AmicableAnimal
Website: http://www.amicableanimal.com/


| | |
| --- | --- |
| Status | Released |
| Platforms | Windows, macOS, Linux, HTML5 |
| Release date | Nov 15, 2018 |
| Rating | |
| Author | Amicable Animal |
| Genre | Shooter, Action |
| Made with | Unity, GIMP |
| Tags | Abstract, Colorful, flat-shading, Global Game Jam, High Score, Score Attack, Shoot 'Em Up, Singleplayer, Top down shooter |
| Average session | A few minutes |
| Inputs | Keyboard, Xbox controller, Gamepad (any) |
| Accessibility | Configurable controls, Interactive tutorial |
| Links | Homepage, Twitter |
Download
Click download now to get access to the following files:
CentralLimitTheoremMac.zip
46 MB
CentralLimitTheoremWin.zip
62 MB
CentralLimitTheoremLinux.zip
48 MB
Comments
Log in with itch.io to leave a comment.
Not sure what's going on here but I can't Download or Claim this.

Hi there, sorry you've having issues, but I have little control over the downloading or claiming mechanism aside from setting the price! I got a couple of people to check today and they were able to claim it. Perhaps itch.io was being overloaded when you tried? All I can recommend is to try again, or ask itch.io support if it still doesn't work. Good luck!

Good news is that I found a workaround.
Something weird on my end, any game on this site that has a playable web version seems to give me this problem.

Very good game, just fyi I tried it first on Microsoft Edge and it was stuck on a black screen.
Huh, that's interesting! I wonder why...

Thanks for the kind words and for letting me know though!
i tried it on chrome and it was a black screen too
Thanks for letting me know! It's hard for me to debug at my end though, as it's working in all the modern browsers I have! For now, I'd recommend downloading it if you want to give it a try! It runs better that way in any case :)

Right up my street, makes me infuriated at my own inadequacy. Love it.
Brilliant and clever game, well worth the price tag! Thoroughly enjoyed accidentally discovering and playing the 'bonus' mode too, and I could happily sit and play this all night trying to beat those top scores :)
Thanks very much, it's lovely to hear that you enjoyed it! If you want to beat the creator, my best score is 102 ;)